Which Processor is Best for Gaming 2021?
Are you a Gamer, aiming to upgrade with a new processor or buying a new PC/ Laptop but have confusion about which processor is best for gaming?
If the Core i7 is too much processor for most people, the i3 may be too little. So, which processor is best for Gaming?
Not because of the processor itself, but because these chips tend to be found in lower-end laptops, which use slow hard drives and puny amounts of RAM to keep costs down. The laptops may slow down during run-of-the-mill tasks, such as moving files between folders and browsing the web with multiple tabs open.
For gaming, clock speed is more important than core number: Higher CPU clock speeds translate to snappier performance in simple, common tasks such as gaming, while more cores will help you get through time-consuming workloads faster. In the end, the fastest CPUs of any family of processors have the highest clock speeds.
Which processor is best for Gaming?
AMD Ryzen 9 5900X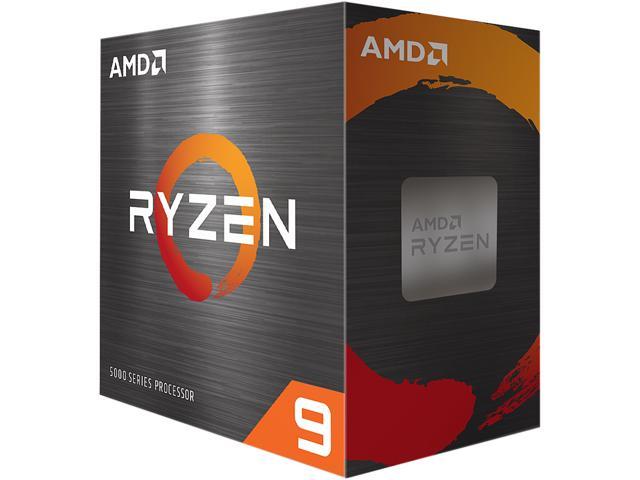 Cores: 12 | Threads: 24 | Base Clock: 3.7GHz | Boost Clock: 4.8GHz | Overclocking: Yes | L3 Cache: 64MB | TDP: 105W | PCIe 4.0 lanes: 20
It is the world's best gaming processor. It is the best CPU for High-end Gaming. Get the competitive edge with 12 cores, 24 threads, boost clocks of up to 4.8GHz, and 70MB of cache.
The AMD Ryzen™ 5900X is the ultimate enthusiast processor for gamers, for creators, for everyone.
Pros:
Amazing performance
A new single-core champion
Same power consumption
Cons:
Price went up
No included cooler
Intel Core i7 10700K
Cores: 8 | Threads: 16 | Base clock: 3.8GHz | Turbo clock: 5.1GHz (single core) | Overclocking: Yes, 5.1GHz typical all-core | L3 cache: 16MB | TDP: 95W | PCIe 3.0 lanes: 16
If all you care about is gaming and you prefer Intel chips, the Core i7-10700K is a speedy chip with plenty of overclocking headroom that nearly matches the gaming performance of Intel's flagship Core i9-10900K.
Where Intel does have more of an edge is in the overclocking stakes. AMD processors don't have a lot of overhead in them, while you can easily push the 10700K over 5GHz on all cores, and without melting through the heat spreader either.
Pros:
Lower per-thread pricing
Turbo Boost Max 3.0
Excellent gaming performance
High overclocking headroom
Reasonable cooling requirements
Cons:
No bundled cooler
PCIe 3.0 interface
Requires new motherboard
Not much faster than Core i5 (in gaming)
Which processor is best for gaming at an affordable price?
In affordable here's the best processor for Gaming.
AMD Ryzen 5 5600X
Cores: 6 | Threads: 12 | Base Clock: 3.7GHz | Boost Clock: 4.6GHz | Overclocking: Yes | L3 Cache: 32MB | PCIe 4.0 lanes: 20 | TDP: 65W
The best affordable gaming CPU right now. The AMD Ryzen 5 5600X takes the top spot in the gaming PC market with a solid blend of Intel-beating performance in both gaming and application workloads.
The Ryzen 5 5600X also bucks the trend of the Ryzen 5000 family by shipping with a Wraith Stealth cooler, so you don't have to drop extra money on a third-party chiller. You don't need to, but if you do, you'll hit higher clocks for longer and also open up the wonderful world of overclocking, which could make it worthwhile. This is a decent little overclocker, and while it won't affect gaming much, it'll help in other areas nicely.
Pros:
Strong gaming performance
Strong in single- and multi-threaded workloads
Relatively easy to cool
PCIe 4.0
Bundled coolers
Power efficiency
Works with existing 500-series motherboards
Cons:
Higher gen-on-gen pricing
AMD Ryzen 5 3600X
Cores: 6 | Threads: 12 | Base Clock: 3.6GHz | Turbo Clock: 4.2GHz | Overclocking: Yes, 4.2GHz typical | L3 Cache: 32MB | TDP: 65W | PCIe 4.0 lanes: 20
Out of the box, the Ryzen 5 3600X is the best processor in its price range for gaming and productivity, marking a massive shift in the mid-range.
You still get a 6-core, 12-thread processor, and outside of games, the 3600 is faster than Intel's 10400F. But then, Ryzen 5 3600 also costs more.
Pros:
Leading gaming and application performance
PCIe 4.0
Bundled cooler
Power consumption
Unlocked multiplier
Cons:
Extremely limited manual and auto-overclocking headroom
AMD Ryzen 5 3400G
Cores: 4 | Threads: 8 | Base Clock: 3.7GHz | Turbo Clock: 4.2GHz | Overclocking: Yes, 4.1–4.2GHz typical | L3 Cache: 4MB | TDP: 65W | PCIe 3.0 lanes: 8
A cheap CPU with integrated graphics, for ultra-budget, builds. At the budget end of the CPU spectrum, there are numerous tasty options to be had.
The Ryzen 5 3400G is a great processor for budget buyers because it comes with an integrated Radeon RX Vega 11 graphics engine that enables playable frame rates in many new game titles, provided that you tweak your game to lower fidelity settings.
Pros:
Radeon Vega graphics
Price
Higher frequencies
Passable 1080p, solid 720p gaming
Auto-overclocking PBO support
Solder TIM
Bundled cooler
Cons:
Lower performance in applications than alternatives
Small performance advantage over previous-gen
Join Telegram Group of Daily Jobs Updates for 2010-2023 Batch: Click Here
If You Want To Get More Daily Such Tech Updates, Career Advice Then Join the Telegram Group From Above Link And Never Miss Update.
Wipro Elite NLTH 2021 Registration: Click here
What is Artificial Intelligence and What will be Future of AI : Click here
Accenture Hiring Freshers of Package 4.5 LPA Across India: Click here
Why You're Not Getting Response From Recruiter?: Click here
Top 5 High Salary Jobs in India IT Sector 2020: Click here
How To Get a Job Easily: Professional Advice For Job Seekers: Click here
A Leadership Guide For How To Win Hearts and Minds: Click here
COVID-19 Live Tracker India & Coronavirus Live Update: Click here
Career Tips for Freshers: Top 7 Hacks To Land Your Target Job: Click here
Top 5 Best Indian Car Launches In December ahead: Click here
Feel Like Demotivated? Check Out our Motivation For You: Click here
Top 5 Best Mobile Tracking App in 2021 For Mobile & PC: Click here
5 Proven Tips For How To Look Beautiful and Attractive: Click here
Home Workouts During The Lockdown For Fitness Freaks: Click here