Instagram Update: 10th Anniversary Anti-Bullying Features, Stories Map, and Custom Icons
So Instagram has crossed the 10-year mark on 6th October. The company is celebrating the occasion with Instagram Update by adding new features, primarily focused on stopping bullying on the platform. The features also include a private Stories Map in Stories Archive and custom app icons on mobile.
1. Instagram Update: Custom Icons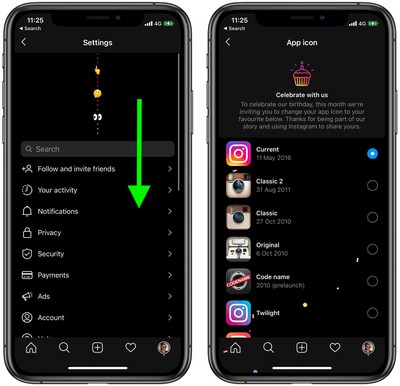 In the Instagram update, it has added new app icons on Android and iOS. As spotted last month, there are a handful of color options including orange, green, yellow, and black to choose from, along with the company's classic ones and pride-themed icons. These icons will be available through the latest Instagram app.
How to Change Instagram Logo/Icon on The Phone?
Open Instagram and click on your profile.
Now to the Settings Section and Pull it Down.
Once you pull it, there will be a 'Celebrate With Us' section.
It features the list of icons along with the Year in which it was functioning.
Click on the icon that you want and do. You will see the message "You have changed the icon for Instagram."
In case, you are not getting the option, check if you have the latest update installed on your phone.
2. Instagram Update: Stories map
Instagram has added a private Stories Map feature that shows the locations of all the stories you've shared over the past three years. This feature has been integrated into Stories Archive. You can also take a look at events that took place on a specific date by going through the newly-added calendar.
3. Instagram Update: Anti-bullying features
Instagram is introducing new anti-bullying features, including one that will automatically hide comments similar to those that have been reported. It is also expanding its comment warning feature and is currently testing it in select languages.
The anti-bullying feature that automatically hides comments similar to previously reported comments will not completely remove the comment – you can view it by clicking on "View Hidden Comments."
4. Instagram Update: Expands Shopping to IGTV
Instagram expanded its Shopping service across IGTV, saying that it will now be easier to find the products you love and support your favorite creators. The Facebook-owned app will start testing shopping with Reels later this year.
If You Want To Get More Daily Such Tech Updates, Career Advice Then Join the Telegram Group From Given Link And Never Miss Update.
Join Telegram Group of Daily Jobs Updates for 2010-2021 Batch: Click Here
Why You're Not Getting Response From Recruiter?: Click here
How To Get a Job Easily: Professional Advice For Job Seekers: Click here
Cognizant Latest News: Up To 20K+ Employees Will Be Hired: Click here
COVID-19 Live Tracker India & Coronavirus Live Update: Click here
Why Remove China Apps took down from Play store?: Click here
Feel Like Demotivated? Check Out our Motivation For You: Click here
List of Best Sites To Watch Free Movies Online in 2020: Click here
5 Proven Tips For How To Look Beautiful and Attractive: Click here