How To Begin With Creating & Editing Video On A PC
From capturing personal moments to communicating business information, videos are used for countless purposes nowadays. Anyone can create videos and share them on social media and other video sharing platforms to share their content with the world. While individuals make videos to showcase their talents and share information, businesses use videos for marketing their brands and products. Irrespective of the purpose of the video, you should follow a proper video-making process to ensure that your video is enjoyable for viewers. This article is kind of a quick guide through the meticulous video-making process. If video-making is not your forte yet, this article can help you create and edit your videos like a professional.
1. Video Camera and Related Accessories
In order to shoot videos, you need a camera. Based on your budget, you can purchase a DSLR or non-DSLR camera. Today, most cell phone devices come with decent cameras for video shooting. If you are shooting outside in daylight, you might not need lights. However, you need lights like spotlights, ring lights, etc., for indoor shoots. Based on your requirements, you can either purchase or rent the lights from any local or online vendor. Apart from these, you may also need a tripod and camera holding stick.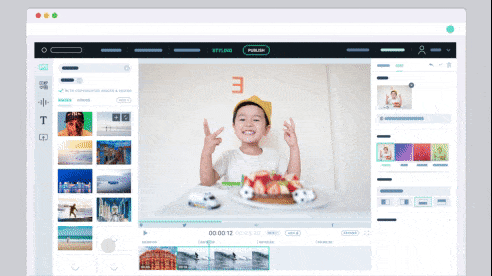 2. Computer Hardware
For video editing, you need adequate computer hardware to handle the heavy software. For running moderately heavy video editing tools smoothly on your computer, you will require at least 4 GB RAM, graphics card, free space on the disc, etc. Also, you might need to save many backups, rough drafts, interactions, and options, thus it is advisable to invest money in an external hard disc drive.
3. Video Editing Software
A lot of different kinds of video editing tools are available nowadays. Some of the tools are appropriate for beginners. Some are suitable for pro-level video editors. While selecting a tool, you need to decide the type and style of video you're aiming to create. Keep in mind that you'll also have the option to choose between free and premium tools. Free tools come with limited features, and they may even impose watermarks on the final video. With premium tools, you are bound to have more liberty as a video editor.
4. Storyboarding Your Video
Right after shooting, you should not jump into video editing directly. You need proper planning before you begin the actual video editing process. You need to plan the steps you'll follow during the video editing process. Essentially, it lays out the flow and sequence of all the shots and gives you an outline of the entire video. Professional video editors always create storyboards before commencing video editing.
5. Raw Footages and Backup
The next step is to transfer the raw video footage from the camera to your computer's hard disk drive. Since video files are large, it may take some time to transfer the camera files to a hard disk. Once the transfer process is complete, you should make a backup of the raw footage to ensure nothing is lost or misplaced.
6. Video Introduction
Now, before moving forward with video editing, you need to create an introduction for your video. If you are creating videos for entertainment purposes, having a video introduction is essential. Professional video production companies always use eye-catching intros to draw the attention of the viewers. For creating a video introduction, you should find a professional video intro maker tool. The intro maker like this one here for your video could either use a complex motion graphic or a simple original animation. Complex motion graphics tend to be much more unique, but simple animations are also good if you are just a beginner.
7. Sorting the Best Takes
The next step is watching all the raw footage and selecting the best shots. During the video shoot, video makers capture videos in many takes. You need to eliminate the takes that are not up to the mark. From a large shot, you may need only a small clip of the video. The default video editor of the Windows operating system is pretty good for cropping out video clips. For Mac users, iMovie is the default video editing tool. And apart from just cropping the videos, you can also use these default tools for color correction, brightness & contrast adjustment, and many other purposes.
8. Importing the Video Clips on Editing Tool
Then comes the step where we import the video clips onto the video editor tool. Once the clips are imported, you need to arrange them in a systematic order. To join the clips, you should use apt transition effects. Most good video editing tools come with hundreds of transitions. Choosing the right transitional effects will make the videos more smooth and enjoyable for the viewers.
9. Adding Background Music
Audio plays a crucial role in any video content. In some video clips, you may need to omit the original audio and add background music. Different video editing tools come with many preloaded background music and sound effect options. Choosing the right background music is important to make the videos a treat for the viewers. Inapt selecting background music can easily turn your video into a disaster, so try out multiple options and don't settle until it sounds just right!
10. Exporting the Final Video
Before exporting the video, you should check the preview on your video editing tool. This will help you notice any need for further modifications. Once your video is ready, you need to export the video in your preferred file format and extension. Professional video editing tools offer export options in multiple formats. Complete the process of exporting the video, and you are ready to upload the video on social media or any other video sharing website.
Conclusion
Creating and editing a video is a rather complex process, which is why many easy to use online video editors are popping up to make this process much more convenient. InVideo is one such tool that makes video editor's lives easier. But regardless of that, a systematic approach is essential for a professional grade end product. Editing is all about making a video more enjoyable for viewers. The primary aim of the entire process is to present an enjoyable piece of content to the audiences, after all.
If You Want To Get More Daily Such Tech Updates, Career Advice Then Join the Telegram Group From Given Link And Never Miss Update.
Join Telegram Group of Daily Jobs Updates for 2010-2021 Batch: Click Here
TCS NQT 2021 Registration Begins, Check Hiring Process, Eligibility Criteria, and Test Pattern: Click here
Why You're Not Getting Response From Recruiter?: Click here
Top 5 High Salary Jobs in India IT Sector 2020: Click here
How To Get a Job Easily: Professional Advice For Job Seekers: Click here
Cognizant Latest News: Up To 20K+ Employees Will Be Hired: Click here
Jio vs Airtel vs Vodafone- Idea 2 Gb Per Day Data Plan Comparison: Click here
Lenovo Legion Three Gaming Laptops Launched In India: Click here
COVID-19 Live Tracker India & Coronavirus Live Update: Click here
Career Tips for Freshers: Top 7 Hacks To Land Your Target Job: Click here
Feel Like Demotivated? Check Out our Motivation For You: Click here
List of Best Sites To Watch Free Movies Online in 2020: Click here